Today's jobs report sharply disappointed jobs prognosticators; however, it has had limited effect on the equities market as of this writing.

The markets had expected 90,000 new jobs to be created, but today's report showed a net 33,000 private sector job losses.

The revisions to July (down 51,000 jobs, from +189,000 to +138,000) and August (up 10,000 jobs, from 156,000 to 169,000) cut an additional 41,000 jobs from the three-month data, bringing the three-month average jobs creation data to just 91,000 jobs.
That's the lowest three months' average job creation since January 2011, when the three-month average was just 83,000 jobs (Historically, GDP for 2011 Q1 was just 1.9%. The Atlanta Fed's "GDP Now" dropped about 30 bps on its update today, from about 2.8% to 2.5%).
Other data point highlights are as follows:
Unemployment rate: 4.2% (down 0.2% from August)

"U-6", total unemployed, plus discouraged workers, plus all other persons marginally attached to the labor force: 8.3% (down by 0.3% from 8.6% in August)
Labor Force Participation Rate: 63.1% (up 0.2% from 62.9% in August)
We obviously presume the job creation was affected negatively by the hurricanes that hit Texas and Florida, two of the country's largest economies; however, state employment data will not be released until October 20th to confirm that presumption (Puerto Rico's and the US Virgin Island's data is not included in the US jobs report data).

Analysis and Expectations
As you can see from our exclusive jobs by average weekly wages report – the most skewed we have ever produced – the overwhelming number of jobs – some 111,000 – were lost in the Leisure & Hospitality sector. That is likely clearly attributable to Hurricane Irma's impact on Florida, where theme parks like Walt Disney World, Universal Studios Florida, SeaWorld and other attractions serve millions of visitors annually.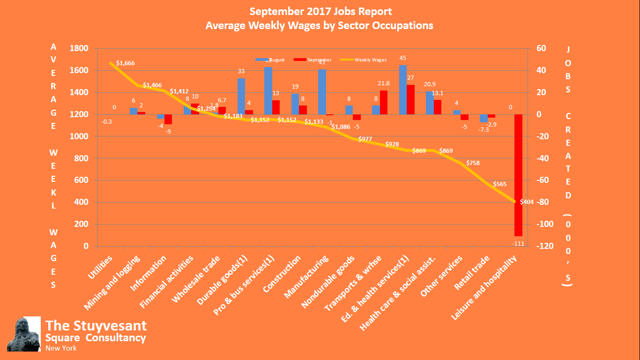 Those theme parks are reopened, and at least Disney (NYSE:DIS) reportedly paid its workers (or "cast members") for the shifts they lost during the hurricane (There are however reports of rumored Disney layoffs to come).
Nevertheless, it will likely take at least a year for the heavily damaged business infrastructure to be replaced, and likely more time than that.
While the replacement of that infrastructure will certainly boost jobs in the construction, engineering and other skilled trades and professional sectors, and workers in the Leisure & Hospitality sector will certainly return to their jobs in the months and weeks to come. Such replacement of commercial infrastructure and such return to employment end up as a "net zero" improvement to the economy from where it stood before the hurricanes; it's a version of the "Broken Windows Fallacy" writ large.
At this writing, it's virtually impossible to segregate the effect of the hurricanes on job creation in the broader economy because the economies of Texas and Florida are so large. The state data is to be released on October 20th.
That aside, however, it seems that jobs creation in other sectors beyond the Leisure & Hospitality sector was virtually moribund, at just 78,000 jobs, with all but three sectors – Financial Activities, Wholesale Trade, and Transportation and Warehousing – creating jobs at a far lower rate than in August.
We're also concerned about the moribund increase in real wages, as shown in our quarterly chart of real wage increases. We make the annual increase overall to be just 1.26% over last year, after taking account of the trimmed mean personal consumption expenditure inflation rate.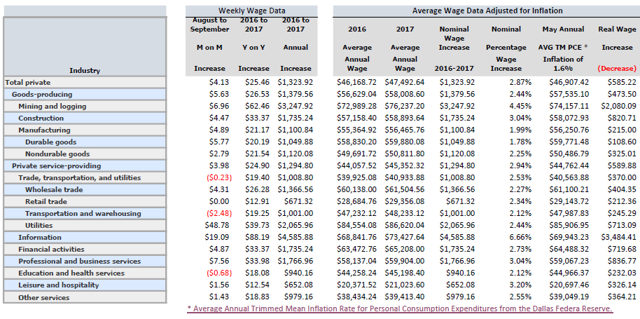 Summary
The September jobs report is certainly an anomaly because of the hurricanes and their effects on economies in Texas and Florida. But we note with grave concern that many of those who were affected by the storm, both businesses and residents, were not insured for the flood damage they suffered. Consequently, we are concerned that personal consumption expenditures, which drive so much of the U.S. GDP, will be cut down significantly in 2017 Q4 as victims of the hurricane borrow and spend to recover. The new debt will likely reduce their ability to consume (as anticipated, incidentally, by the broken windows fallacy).
The Federal Reserve, which purports to be "data" dependent, has shown more than once that it is inclined to be "date" dependent, so we anticipate a December rate rise of 25 bps.
But a fair view of the economy, particularly given the hurricanes, should cause the Fed to stand pat.
In light of the above, we suggest:
Long banks, financials, home improvement sectors, consumer durables.
Short consumer discretionary, leisure & hospitality.
Author's note: Our commentaries most often tend to be event-driven. They are mostly written from a public policy, economic, or political/geopolitical perspective. Some are written from a management consulting perspective for companies that we believe to be under-performing and include strategies that we would recommend were the companies our clients. Others discuss new management strategies we believe will fail. This approach lends special value to contrarian investors to uncover potential opportunities in companies that are otherwise in downturn. (Opinions with respect to such companies here, however, assume the company will not change).
If you like our perspective, please consider following us by clicking the "Follow" link above.
Disclaimer: The views expressed, including the outcome of future events, are the opinions of the firm and its management and do not represent, and should not be considered to be, investment advice. You should not use this article for that purpose. This article includes forward looking statements as to future events that may or may not develop as the writer opines. Before making any investment decision you should consult your own investment, business, legal, tax, and financial advisers.
Disclosure: I/we have no positions in any stocks mentioned, and no plans to initiate any positions within the next 72 hours.
I wrote this article myself, and it expresses my own opinions. I am not receiving compensation for it (other than from Seeking Alpha). I have no business relationship with any company whose stock is mentioned in this article.
My RSS Feed
Related Posts: