"Anything is possible, and the unexpected is inevitable. Proceed accordingly." – Jason Zweig
In many ways, this bull market has behaved just like many others before it. However, that's not how it is perceived by some. There are a few catch phrases that have been associated with this market, but lately there is one that stands out. The market doesn't care is now a popular comment, and it's worthy of discussion.

Really? That depends on how an individual perceives what is taking place in front of their eyes. There is a contingent that believes that every headline is dismissed, and stock prices rise no matter what. Of course they are talking about the negative headlines.
Stocks have persistently defied the skeptics, who have pointed to all of the negatives that can be dreamed up. Problem is what they refer to as news is just an extension of the myopic view that has been around the stock market for a while.

How can it be that this market is going up with so many controversial headlines out of D.C.? North Korea is talking nuclear and shooting missiles, the Fed is raising rates, reducing its balance sheet, yet the market rises. The yield curve is flattening, the bond market is sending signals, but the uptrend continues. The S&P 500 is like Teflon, no event seems to stick and so the conclusion is that all are complacent and the market doesn't care.
Nonsense. The stock market and the individuals that are moving billions around each day definitely care, and they care about what really matters. So those making statements that the market doesn't care are doing a great disservice to investors that are listening to that rhetoric. It paints a picture that is based on a narrative having one believe that no matter what comes up the market will keep rising, and there is little behind the market upswing. A deceptive message that couldn't be further from the truth.

The S&P 500 is in its second longest bull market of all time, and there are reasons for that, reasons that the folks investing in this bull market care about.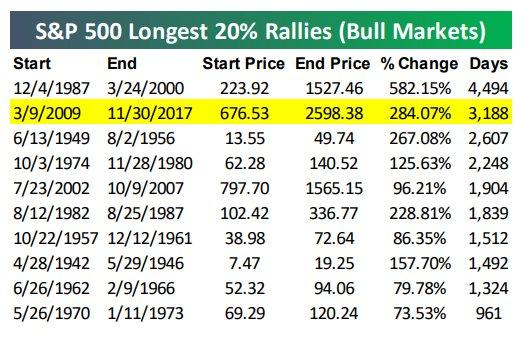 Source: Bespoke
For anyone that hasn't noticed, there has also been a ton of good news to fuel the rally. The global economy is strong and has been showing signs of acceleration; earnings growth has been surprising to the upside. Despite the negative headlines from the skeptics about the Fed, they remain very accommodative. Add to that an easier regulatory environment, and you have all the ingredients for a rally no matter what soap opera or drama is being played out or conjured up.
The backdrop for owning equities over the intermediate time frame (3 to 9 months out) is slanted to the upside, despite when the next chapter of what will derail the bull market comes out.

Economy
U.S. Services PMI came in at 57.4. That was disappointing to some who were expecting a reading of 59. This report was down from the 60.1 reading in October, which was a 12-year high. It should be noted there have been only 3 readings of 60 or higher in the last few years. This past October, one in 2004, and the other in 2005. So, I wouldn't be overly concerned about the drop to a very respectable level.
U.S. Q3 productivity growth held at the 3.0% pace, as it was in the preliminary report, and it compares to 1.5% in Q2 and 0.1% in Q1. Real output per hour of all persons rose 1.5% on an annualized basis. U.S. factory orders slipped 0.1% in October after an upwardly revised 1.7% gain in September; it was originally reported as a 1.4% increase.

Here is one economic indicator that hasn't been mentioned in quite a while. The American Trucking Association Truck Tonnage report.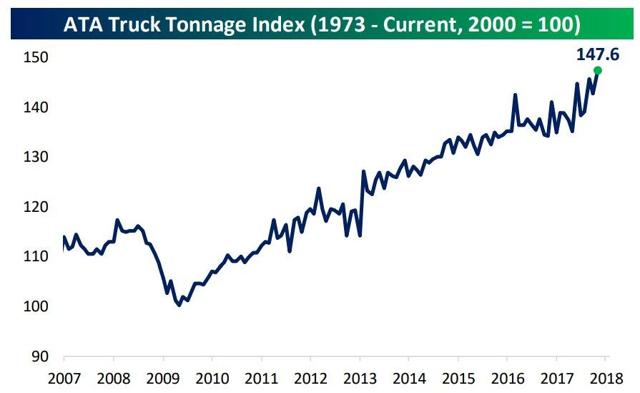 Source: Bespoke
It often can be a good indicator of the economy by simply telling us the total of goods moving around the country. That's 9.9% year-over-year growth in 2017.

Global Economy
J.P. Morgan Global Services PMI was released, and the results show continued strength across the board. David Hensley, Director of Global Economic Coordination at J.P. Morgan:
"Global service sector activity continued to expand at a solid and steady pace in November, underpinned by rising new order intakes. Capacity is still being tested, despite rising employment. This is feeding into pipeline inflationary pressures at service providers, with both input costs and output charges rising at faster rates during the latest month."

Eurozone Markit Composite PMI remains strong with a final read of 57.5 for November versus the October reading of 56. The Services Business Activity component rose to 56.2 in November from 55 in October. Chris Williamson, Chief Business Economist at IHS Markit:
"The eurozone enjoyed a bumper November, setting the scene for a buoyant end to the year. The PMI surveys signaled faster growth across the board, led by stronger expansions in France and Germany alongside a marked upturn in the pace of growth in Italy. Business conditions in Spain also remained encouragingly resilient in the face of heightened political uncertainty, albeit on course for the weakest quarter of the year."
Germany saw a slight decrease in its Services PMI, falling to 54.3 from the October reading of 54.7. Retail PMI was reported at a 6-month high in November with a reading of 54.6. The prior month read was 51.2.
France picked up the slack as its employment growth is at a 16-year high. While its Services Index rose to 60.4 last month from the October report of 57.3, the sharpest expansion in service sector output since May 2011. Retail sales improved in November with a Retail PMI number that rolled in at 52.2 versus the October read of 51.5.
Italy also saw a nice increase in its Service sector results by hitting a 3-month high at 54.7. The prior month was recorded at 52.1. Retail PMI numbers showed a decline in sales for the month of November with a read of 49.2 compared to the October report of 50.3.

Agreement was reached on the Brexit round one issues this past week, setting the stage for further negotiations. I am certainly no expert on this matter. In my humble opinion, by its actions, the EU softened its tough talk stance announced at the onset of the Brexit vote.

Japan GDP rose more than expected coming in at 0.6% versus the expectations of 0.3%. Annualized growth has been raised to 2.5% as the recovery continues on track.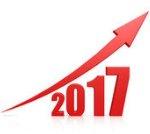 Earnings Observations and Valuation
There is little doubt that the proposed corporate tax rate of approximately 20% will push 2018 EPS estimates up sharply. Question is how much. Current 2018 estimates sit at around $145-146. A conservative approach to the improved picture could take that to $152 or so. While a more aggressive view takes earnings to the $155-156 level.
FactSet Research weekly report:
For Q4 2017, the estimated earnings growth rate for the S&P 500 is 10.6%. All 11 sectors are expected to report earnings growth for the quarter, led by the Energy sector.

The forward 12-month P/E ratio for the S&P 500 is 18.2. This P/E ratio is above the 5-year average (15.8) and above the 10-year average (14.2).

For 2018, the bottom-up EPS estimate for the S&P 500 is $146.17.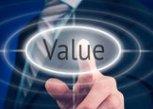 If there was no earnings boost due to the drop in corporate taxes, the stock market is fairly valued. Using multiple metrics, I then conclude the equity market is undervalued given the possible boost from this tax reform. Little if any of the benefits are priced into the S&P today.
Cornerstone Macro came out with a research note that I tend to agree with. It sees little evidence valuation plays any role in determining near term market returns. It's a poor timing tool because the index composition changes so widely across time. In other words, is it really fair to compare today's market P/E to that of 2007, 2000 or 1985? Each market had very different makeups in very different economic environments.

The Political Scene
The December 9th deadline to avoid a government shutdown will come and go with no drama as Congress passed a two-week spending bill to push the new deadline out to December 22nd.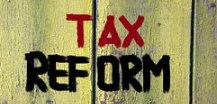 The tax reform plan was passed, and analysts are now busy at their keyboards hammering out new estimates on what this could do to 2018 corporate earnings. In the next few days/weeks, investors will be inundated with all sorts of reports and forecasts.
The airwaves were filled with commentary about how hated this reform is. This tax reform bill is as unpopular (56% disapproval) now as ObamaCare was when it was signed into law (59% disapproval) in March 2010. In the meantime the stock market is taking everything in stride. What else is new. The equity market cares about what this means to corporate earnings and when it might become reality.
Another benefit may also be on its way. Repatriation of overseas monies might have some large corporate players wondering what to do with all of that money. That could lead to being more active on the M&A scene. Yet all the naysayers want to talk about is how horrible it will be if the money goes to stock buybacks and dividends. Perhaps they need to look up the definition of the word horrible.
As it pertains to equities, I see nothing bearish in this proposed tax reform package. Ned Davis Research agrees in part but also points to a possible unintended consequence. First, it estimates a boost of 0.1% to 0.9% of GDP in 2018 and 2019 from the tax bill, based on fiscal multipliers from the Congressional Budget Office. However, it brings up an interesting point:
"Given that the economy is in its eighth year of expansion, and the output and unemployment gaps have been practically eliminated, this could feed into higher inflation, prompting the Fed to accelerate its interest-rate increases and negating some of the stimulus impact."
We will just have to see exactly how this will play out over time, using the same methodology employed during the entire bull market. Make no premature moves until concrete evidence appears. Leave the what if scenarios to others.

The Fed
The next FOMC meeting is on tap during a two-day stint, December 12th and 13th. It is widely accepted that Janet Yellen and company will increase rates for the third time this year.
As detailed by the National Bureau of Economic Research, during the most rapid periods of growth, the yield curve was inverted: as unit growth and productivity soared, pushing short rates up, inflation dropped, creating a virtuous cycle that turbocharged the equity market.
A graphic presented below challenges the idea that rate increases will hurt market returns; in the early stages they tend to rise during rate hikes.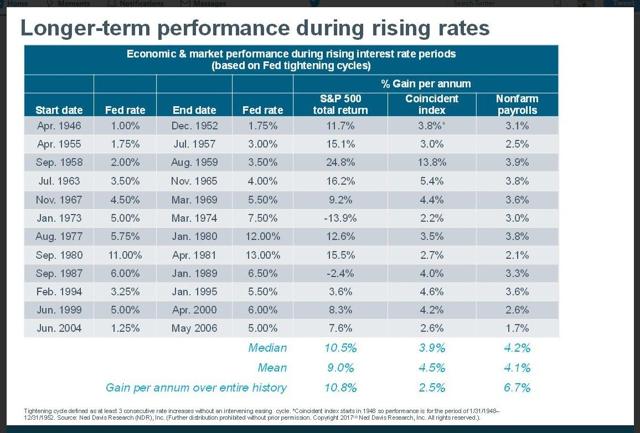 Chart courtesy of Liz Ann Sonders, Charles Schwab
It is only when we are at the end of the rate increase cycle where stocks struggle.

Sentiment
Bulls were in the majority once again, extending the record to 153 straight weeks. This week's AAII survey showed little change in optimistic sentiment as bulls remained right near 36%. Bearish sentiment rose from 31.6% up to 34.2%, which is a three-week high.

Crude Oil
The price of WTI weakened after the weekly inventory report was published showing a decrease of 5.6 million barrels. The reason for the weakness however was tied to the large increase in gasoline inventories which rose by 6.8 million barrels. For this week of the year, crude inventories are below both 2015 and 2016 levels.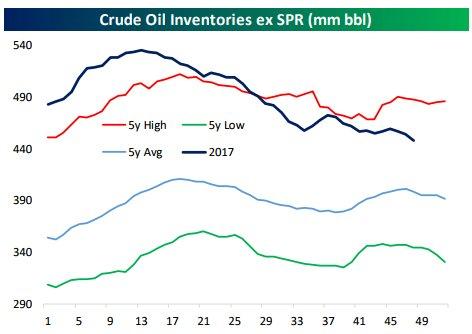 Source: Bespoke
That's despite record production estimates on a weekly basis, thus implying there is also robust demand present. WTI drifted to a three-week low dropping below $56 during the week before closing Friday at $57.33, down $1.03 for the week.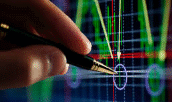 The Technical Picture
The rotation theme continued on Monday as the Dow and S&P celebrated new highs while the Nasdaq was in the red. At the end of the day, the S&P reversed and closed in the red as well. A message from the market indicating that consolidation is now in order. Once thought to be an insurmountable lead, the Dow 30 has closed the performance gap as it is now up 24% for the year, while the Nasdaq, which has been the leader all year, is up 26%.
When all indices move to new highs in unison as they did in November, it is pretty obvious that market breadth is solid. Digging a little deeper confirms that big picture view. For those that look at issues that really matter, the technical picture looks very healthy now.
There is a large percentage of Industry Groups with rising 200-day moving averages. The only three with downward sloping 200 DMAs are still Energy, Media, and Telecom Services. We have seen 80%+ readings for over 18 months now.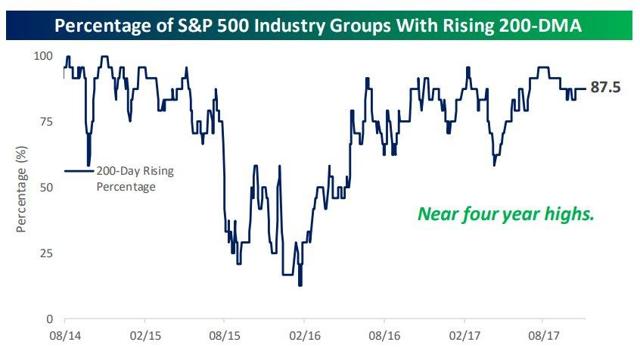 Source: Bespoke
Looking at shorter-term moving averages, the picture has improved substantially. While the trend of lower highs remains in place, since the end of August, the percentage of Industry Groups with rising 50-day moving averages has increased by 50 percentage points to 83% from 33%!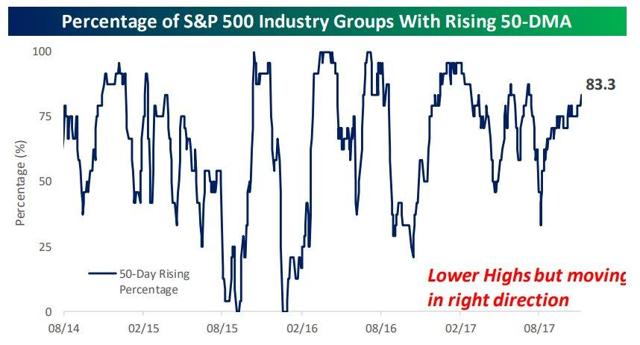 Source: Bespoke
This type of data is what the market cares about. Federated Research chimes in with a note mentioning that year to date, the S&P is up roughly 15%, and more than 70% of stocks are positive. In 1999, the S&P was up nearly 20% but only 49% of issues were positive for the year.
That is all well and good as it solidifies the intermediate-term bullish view. Let's take a look at the very short-term picture. The daily chart of the S&P shows the index remains above the 20-day moving average, sitting at a fresh new high. The green arrows depicted on the chart this week signify the time when all major indices were making new high in unison. It is important to note that November marked a new momentum high for the markets.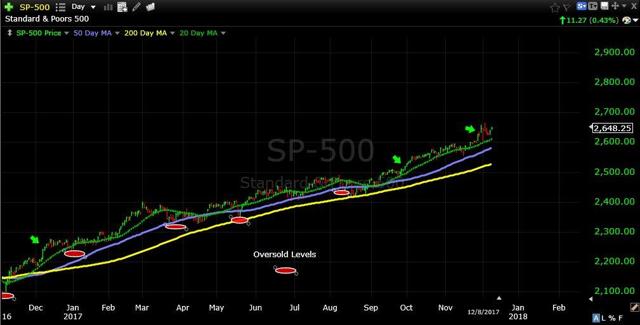 Chart courtesy of FreeStockCharts.com
Given the short-term overbought condition of the S&P, there comes the possibility that both the 20-day (green line) and the 50-day (blue line) can come into play at some point in time. That gives me a short-term downside target of around 2,570-2,575, coincident with the rising 50-day moving average. If the initial downside target of 2,570 does indeed come to pass and hold as support, there is a good chance that more new highs will follow.
If not, then it will be time to reassess the short term. A significant catalyst that adds more pressure to any downside move could very well bring the 100-point decline in the S&P that has been mentioned here before. That would make the downside target around 2,540-2,550. Much too early to make that talk anything than a possibility.
While that may be an issue for traders, I do not see it posing a problem for the long-term oriented. For the purposes of providing a meaningful forecast that does not infer a 20-30 year time frame but the next 6- to 9-month period. As in the past, one day, one week at a time. It pays to reassess the market movement during these quick short-term gyrations.
Short-term support is at the 2,632 pivot and S&P 2,609, with resistance at 2,656, then 2,665.

Individual Stocks and Sectors
Telecom, Banks, Industrials, and Energy stocks were the recipients of most of the money rotating out of the Technology sector once again. Stephanie Link posted a note saying there was $654 million of net buying in U.S. Financials. There has now been $2.3 billion of net new assets in U.S. Financials in the space of a week. Liz Ann Sonders drives the rotation point home with this excellent graphic from her latest research note.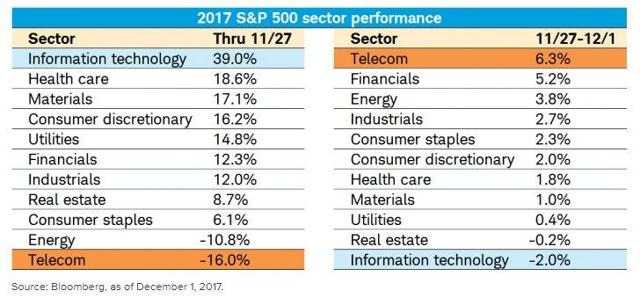 The results in just the last few days solidify the theme that plays out in the markets over time. Reversion to the mean. The outperformers take a back seat for a period of time while the laggards attract money. There have been some other notable characteristics behind the rotations we've been seeing.
Through Thanksgiving this year, growth stocks paying little to no dividends with above average international revenue exposure have been the clear winners. On the other hand, value stocks with high dividend yields and low price/earnings (P/E) ratios had been the year's worst performers. In the span of a few trading days, all of that has been reversed.

A rolling correction has sure hit the semiconductor index in the last week or so. This segment of technology has printed profits for anyone that has been long these stocks. Andrew Thrasher of Seeitmarket.com posted the chart below and notes:
"For the first time since early 2016, the ratio between semiconductors and the S&P 500 is now seeing oversold momentum as the ratio tests the June high."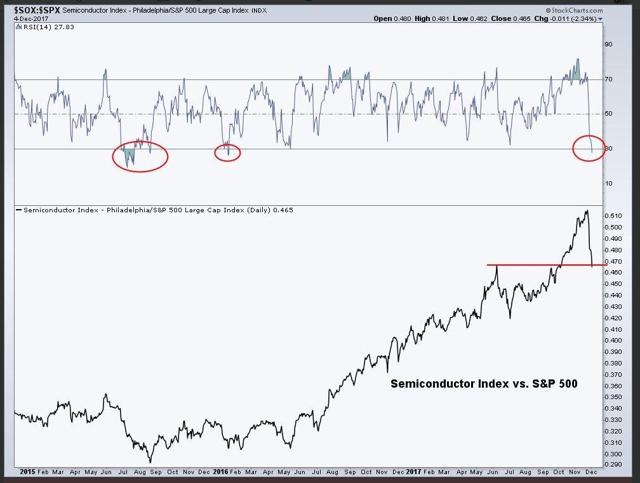 Chart courtesy of Seeitmarket.com
For myself, a key to picking entry points occurs on days where the market is weak, and selected stocks that have sold off, buck the trend and close with a gain. Such was the case on Tuesday. The S&P and Dow 30 trade down, semiconductor stocks Nvidia (NVDA), Monolithic Power (MPWR), a 2017 playbook stock, and Micron Technology (MU) just to name a few were positive. Also notable, the Philadelphia Semiconductor index (SOXX) itself was also green on the day.
Other momentum names following that trend were Facebook (FB) and Alphabet (NASDAQ:GOOG) (NASDAQ:GOOGL). It still could be early on any reversal of the recent weakness, but the bulk of the selling may indeed be over.
CyrusOne (CONE), another 2017 playbook stock that gained 45% this year before running into profit taking, bucked the overall selling seen in the S&P on Tuesday. This data center REIT was taken down with the tech selloff despite the growth story continuing.

Biotech stocks in general are among the stocks that are under pressure in end of year positioning. Lipper/AMG Data Services reports:
"For the weekly period ending Wednesday, December 6, biotech saw net outflows of ~$85M, representing a 0.14% decrease in assets as reported by 100 funds. For the past four weeks, biotech saw ~$711M in outflows, and thus far, 4Q17 fund flows have remained negative with ~$1.3B in outflows and just two weeks of inflows for the quarter. Overall, the YTD figure remains positive (~$491M)."
Looking at the big picture, both the S&P Biotech ETF (XBI) and the Nasdaq Biotechnology Fund (IBB) remain in the bull market trend that started in February of this year.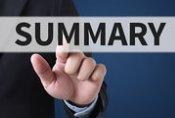 The commentary on the proposed tax reform goes on and on. It's never wise to overthink any situation regarding equities, and now is a time to put that into practice. Energy, Retail, Healthcare, Financials and Telecom are at the top of the list of companies paying the highest tax rates. Caution is advised when using what a company pays in taxes as THE reason to get involved.
That list of market sectors also explains why present market psychology has abandoned growth for the time being as institutions rush to what is perceived as the winners after tax reform is enacted. One caveat to keep in mind. The Senate version of the proposed tax bill still has the effective date of these cuts to start in 2019. If that were to actually happen, it will surely change how 2018 will play out in the markets. At the moment that is still a huge what if.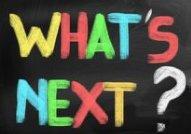 History tells us that the latter half of December is when the market posts its gain for the month. The first part of the month started out with some much needed consolidation until new highs were forged on Friday. In the short term, the gains we have seen over the last several days have definitely pushed the market to short-term overbought levels. The S&P 500 has become quite extended at these levels as it is above the top end of its uptrend channel. As mentioned in last week's summary:
"The short to intermediate term view now does lean to modest upside from these levels. That should come as no surprise given the virtual unstoppable run the market has been on."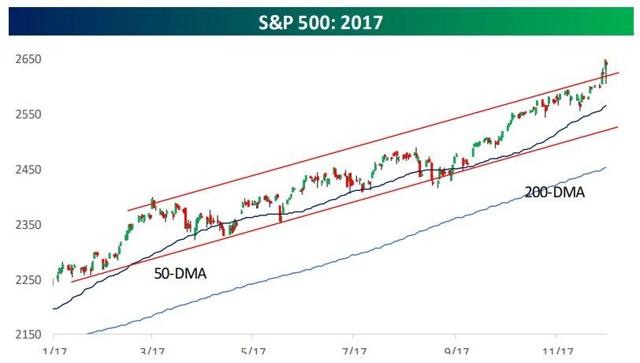 Source: Bespoke
With ALL of the major indices making new highs in unison, the broad participation tells us despite any short-term issues, the long-term view is decidedly positive. We have been here before. Selectivity is key as many solid fundamental growth stocks have sold off. This isn't the time to go out and raise a huge amount of cash, unless you are calling it a career and moving to your own island.
Money rotation causing rolling corrective activity is positive for the overall health of the market. It stops all excesses in their tracks and offers solid opportunities along the way. No reason to push all the chips in here, but don't knit pick over a small percent when buying for the intermediate term (3-9 months). If it is considered a core holding long-term purchase, one only needs to be in the ballpark with their entry point.

This cycle is different from others in that the exceptional fundamentals of the margin leadership and coincidentally the market leadership group are having noticeable effects. Companies in the top quintile of margins have a 15% margin advantage over the rest of the market. Most of these names reside in the Tech sector.
Empirical Research notes there has never been such a wide gap. Heavily represented by the tech and healthcare sectors, this group's average revenue growth is more than double that of overall market. It is no wonder why these two sectors have outperformed, and it appears that growth isn't ending tomorrow. When looking at the opportunities being presented right now, remember these aren't falling knives where the fundamental story is also a falling knife. Quite the contrary. Believe me there is a HUGE difference in the two scenarios.
Focusing on the major indices can become a problem as the consensus story tells us that the equity market is overvalued and it's time to be careful. As the rolling corrections continue while the indices consolidate, there is abundance of opportunities that can be found. A sign that we are indeed in a secular bull market. The underlying strength remains intact while weeding out the excesses before they become a problem.
Sure, as I write this, there will be a time when we go from a bullish backdrop, where the positive news is accentuated, to one where the bearish news is followed like a pied piper tune. That is the way markets work. It is why staying the course in a prevailing trend increases the chances of success. Positioning against the prevailing trend is a sure way to underperform.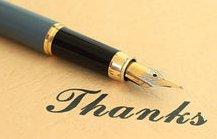 to all of the readers that contribute to this forum to make these articles a better experience for all.
Best of Luck to All!
Disclosure: I am/we are long CONE, FB, GOOG, MPWR.
I wrote this article myself, and it expresses my own opinions. I am not receiving compensation for it (other than from Seeking Alpha). I have no business relationship with any company whose stock is mentioned in this article.
Additional disclosure: This article contain my views of the equity market and what positioning is comfortable for me. Of course, it can't be for everyone, there are far too many variables. Hopefully it sparks ideas, adds some common sense to the intricate investing process, and makes investors feel more calm, putting them in control. The opinions rendered here, are just that – opinions – and along with positions can change at any time. As always I encourage readers to use common sense when it comes to managing any ideas that I decide to share with the community. Nowhere is it implied that any stock should be bought and put away until you die. Periodic reviews are mandatory to adjust to changes in the macro backdrop that will take place over time.