In the eighties and nineties, I had the pleasure of collaborating with academia in the area of organizational change including on, Research on the Management of Innovation: The Minnesota Studies, edited by Andy Van de Ven, Hal Angle, and Scott Poole. These scholars were working to determine what differentiates organizations that succeed at change from those that don't. Their research extended into mergers and acquisitions and later into guidance articles for would-be acquirers.
The Dark Side of Change
One morning, a Minnesota Studies participant called to see if I had read his latest article on M&A before he submitted it for publication. I was in a grumpy mood and snapped that I had grown tired of such self-help articles. "David", I explained, "At two-thirds, the failure rate of M&A's has been constant for almost 100 years. There is no learning going on here; what makes you think executives care?" My friend was taken aback and challenged, "Well then, what do you suggest, Henry?" On a roll, I blurted out, "Why don't we research if/how competitors take advantage of rival mergers and acquisitions?" He fell silent before saying, "I'll call you back."
Later that day, my phone rang again. It was Drs. David Bastien and Todd Hostager on a conference call. David asked me to repeat my rant. Todd was excited. David jumped in, "Do you have data?" I replied, "I can get them through the Fed's Call Report database." [Financial information on banks is public and back then a lot were acquiring and merging or subject to the competitive forces of those that were.]
In 1996, The Journal of Management Inquiry accepted an article that the three of us coauthored under David Bastien's lead. For reasons extending beyond M&A, we entitled it, "Corporate Judo – Exploiting the Dark Side of Change when Competitors Merge, Acquire, Downsize, or Restructure". For those unaware of it, unlike the commercial press, scholarly publications primarily source their revenue from subscriptions and reprints. In preparing this article for Seeking Alpha, I reached out to Sage Publications for permission to provide an open-link to that article. I want to thank Sage here for their willingness to do so; very classy. [In the link, click on "Vol 5, Issue 3, 1996" and scroll down to open the article.]
The piece was well researched with extensive citations and went into a great deal of detail about organizational dynamics during times of change. We provided an example of a competitor that grew spectacularly when their rival overreached on an M&A integration, and we offered some prescriptions for success. The concepts landed us on television, the cover of the business section of USA Today, various regional newspapers, and in marketing and trade journals. We also drew some criticism including from Michael Hitt and Roy Serpa; we swatted it away.
The topic had been whispered about but never explored openly for the reason, we speculated, that business people did not want it known that they would resort to such tactics even though some did. The practice of taking advantage of a competitor's disarray is best not broadcast. Commandeering clients and employees through advertising, direct mail, promotional pricing, and/or coffee house conversations is done but subtly to the extent possible.
The Wounded General Electric
General Electric (GE) is a company living on the dark side of change: a) years of poor board leadership and disrupting executive successions, b) once strong business units struggling to get on their feet, c) SEC and DOJ investigations, d) ratings downgrades, commercial paper questions, e) dividend cuts, f) stock price target downgrades, g) an embarrassment to shareholders, h) stock dumping. Interesting that GE a few days ago took the position that they are a "fundamentally strong company"; they aren't…
| | | | | | |
| --- | --- | --- | --- | --- | --- |
| | Q3 2017 | Q4 2017 | Q1 2018 | Q2 2018 | Q3 2018 |
| Revenue | $31 bil. | $32 bil. | $29 bil. | $30 bil. | $30 bil. |
| Net Income | $1 bil. | ($10 bil.) | ($1 bil.) | $1 bil. | ($23 bil.) |
| Change in Cash | ($9 bil.) | ($6 bil.) | ($12 bil.) | ($16 bil.) | ($17 bil.) |
| Equity | $76 bil. | $56 bil. | $56 bil. | $55 bil. | $31 bil. |
Then There Is Siemens
…and, no doubt, some of their customers, employees, partners, and competitors have noticed. Flash back to 2016 when the company was thought to have overpaid for the French multinational Alstom (OTCPK:ALSMY) only to have the DOJ require them to divest some of their power interests. Enter Siemens (OTCPK:SIEGY) that is now working to merge their locomotive business with Alstom's; no trivial matter especially in the EU.
Meanwhile, GE is positioning to change even more by shedding other once strategic assets, including part of its stake in Baker Hughes (BHGE) and its health care business. Charlie Gasparino, often believed to be "in the know", says that the company is working on a plan to deleverage including in consultation with Goldman Sachs (GS), JPMorgan Chase (JPM), and Blackstone (BX).
As for Siemens, well, they've already spun off their health care business into Siemens Healthineers (OTCPK:SMMNY) while retaining an 85% stake in the company. All the while, they continue to play offense with high-resolution ultrasound, a new mammography system, in vitro and smartphone analyzers, and the nonstop introduction of other exciting technologies.
GE has recently said that it will focus on aviation, power plants, and renewable energy. The company is probably uncatchable in jet engines and related turbine technologies. However, things may not come as easily in other areas. Just recently, for example, GE was included by Iraq in their major electrical infrastructure project but "only after intervention from the White House"; Siemens got the bulk of that work. And, with their stake in Gamesa (OTCPK:GCTAY), the German giant is pulling away from GE in wind as well as, probably, solar with their micro-grid initiatives. I wrote earlier that Siemens may be positioning to become "the renewable energy integrator".
I, for one, find Siemens' strategic structure compelling – a decentralized "fleet of ships". It aligns the strength of their brand with the realities of a world now demanding focus, agility and adaptation. Siemens' financials are good enough (for now) with 16 of 26 analysts having SIEGY as a buy with an overall average price target or $73.56, representing potential appreciation of 27% over Friday's close of $57.93.
Market and Investor What…if's
But what really holds my interest are two "What…if" questions. What if Siemens begins in earnest to pick up business from GE either outwardly via asset acquisitions, or organically via some of the less obvious tactics mentioned above? And, what if investors catch on such that Siemens' stock starts to rise inversely to GE's fall? I'd only add that, to the extent GE's downsizing helps Siemens become a global oligopolist, they and their shareholders may benefit further. The news and the chart lines below will indicate whether these questions come to fruition.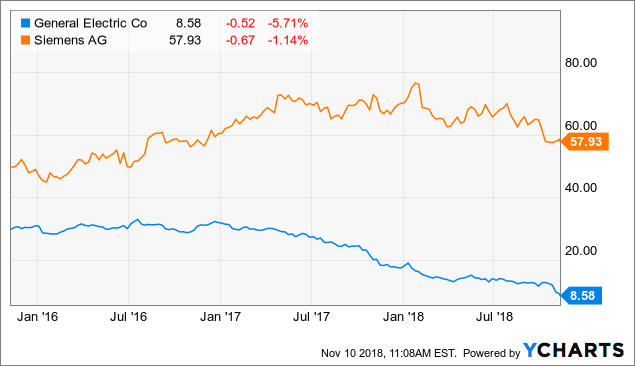 In our original research on exploiting the dark side of change, we drew a preliminary conclusion that, a well-orchestrated response to the disruptions that follow from a rival's restructurings may result in one of the more significant growth events that a competitor ever experiences.
I'm a long, not a short. Having owned and sold GE more than once dating back to 2009, I wish the company well. After all, it was GE that Thomas Edison built 125 years ago and as recently as 2010 was ranked by Forbes as the second largest company in the world. At the same time, though, I have some understanding of the forces that can come into play in situations like this. My money is on Siemens.
Disclosure: I am/we are long SIEGY.
I wrote this article myself, and it expresses my own opinions. I am not receiving compensation for it (other than from Seeking Alpha). I have no business relationship with any company whose stock is mentioned in this article.
Additional disclosure: Always do your own due diligence in consultation with a licensed and competent financial adviser who understands your unique needs and puts your interests ahead of their own. Remember, there are added considerations in owning foreign securities including those associated with ADR sponsorship, buying and selling the pinks, foreign withholding taxes on dividends, and fees. (All my proceeds from contributing to SA go to charity.)
Editor's Note: This article discusses one or more securities that do not trade on a major U.S. exchange. Please be aware of the risks associated with these stocks.
Related Posts: