Last week, I took a stab at calculating Fitbit's (FIT) price floor, following the stock's 80%-plus stumble since 2015 but apparent plateauing over the past 12 months. My liquidation value analysis suggested FIT could realistically still drop 70% from current levels under an absolute worst-case scenario (i.e. one in which Fitbit shuts down its doors today or tomorrow). I stated, however, that $2.50/share might be a bit more realistic of a hard floor, once I relax some of my harshest assumptions.
Today, I turn the other way and ask myself: how high might Fitbit's shares go, assuming the next few years turn out to be much better for the San Francisco-based wearable device maker?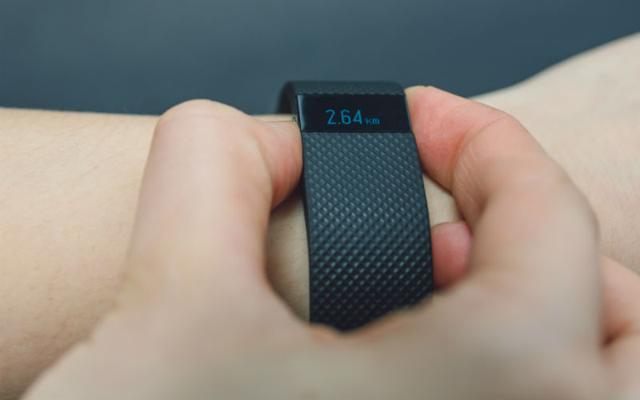 Credit: Business Cloud
Hard-core, ultra-optimistic bulls might defend that the sky is the limit for this stock. Consider the following analysis, from research firm IDC:
Since the wearable market's inception, it's been a matter of getting product out there to generate awareness and interest. Now it's about getting the experience right. In the years ahead, users will be treated to second- and third-generation devices that will make today's devices seem quaint. Expect to see a proliferation in the diversity of devices brought to market, and a decline in prices that will make these more affordable to a larger crowd.
It looks like wearable devices, while securing a few scattered wins in the past few years — think Apple's (AAPL) Watch, not Alphabet's (GOOG)(GOOGL) Glasses — are still in the early stages of their life cycle as a popular product category. According to IDC, the "Wearables 2.0" phase will result in 18% annualized growth by 2021, in shipment volume terms. The most popular wristband sub-category, Fitbit's bread and butter until now, should grow at a much more timid 1% over the same period, while smartwatches, the company's bet for the coming few years, is poised to double at least.
See table below for more details.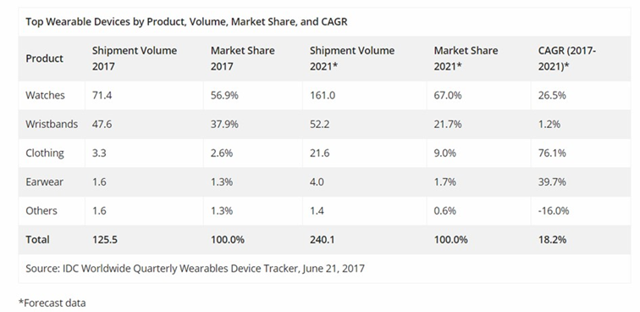 So to estimate a best-case scenario and calculate FIT's potential upside, I make the following assumptions:
Wristband sales: Fitbit will be able to reverse course, fend off low-cost competitors and maintain market share in the wristband space. The sub-segment in general is expected to grow at an unimpressive 1% annual pace through 2021, but I aggressively assume that the company will outperform and grow at 2.5% over the next four years.
Smartwatch sales: this is the wild card. Should Fitbit be successful and become one of the "thrivers" in this space (the first product within this category, the Ionic, was introduced as recently as October 2017), the company's future financials would likely benefit greatly. I assume that, by 2021, Fitbit will account for 7.5% of the total 161 million device market, which I find very aggressive but plausible under a best-case scenario.
Average selling prices: for both the wristband and smartwatch categories independently, prices are likely to drop over time. But because the latter might represent nearly half of Fitbit's 2021 sales under my assumptions, up from what I estimate to have been less than 3% in 2017, the favorable mix suggests overall ASPs should rise and plateau around 2021.
Margins: here, I assume that gross margins will dip in 2018 as guided for, but reverse course in 2019 as (1) pricier smartwatches become a more relevant product category and (2) gains from scale start to kick in once again. Opex should naturally rise, but I believe they would fall as a percentage of sales when or if sales growth picks up the pace.
Other assumptions: non-device sales should remain capped at about 5% of total revenues. Effective tax rate should eventually settle near the new U.S. corporate rate of 21%, and shares outstanding should remain largely stable, even if increasing slightly to support share-based compensation.

Source: DM Martins Research, using data from company reports
Once I plug in all the numbers above, I arrive at a projected non-GAAP EPS of $1.50 by 2021. Assign to that number a 20x earnings multiple that should be reasonable for a tech device company experiencing healthy top-line growth of 10% by then, and the stock might be worth $30/share in a few years under a very best-case scenario.
Before bulls start salivating over the prospects of a stock quintupling in only four years, let me be very clear about the speculative nature of this potential investment. Assume that Fitbit might not be as successful in the smartwatch space and instead ends up controlling only 5% of the market by 2021 for a total of about 8 million smartwatch units sold that year. In this case and holding all other variables unchanged, my projected stock price drops to a mere $4/share as most of the gross profits generated would be consumed by rich opex and tax expenses.
Key takeaway
Perhaps talking in extremes ($2.50/share floor, $30.00/share potential) might not help readers make a quality decision on whether to invest in FIT at current levels. In my view, the key takeaway from the exercise above is that the success of Fitbit and its stock is highly dependent on how the company (1) might perform in the high-ticket, high-projected growth smartwatch space and (2) will navigate the saturated wristband market in the next few years. The company needs volume to create operating leverage and send earnings (and likely share price) soaring. But accomplishing this feat is nowhere near a guarantee, and I believe the risks for shareholders are sizable.
In the end, I remain on the sidelines, neither taking a bearish stance on FIT nor betting any of my hard-earned money on this speculative play.
Note from the author: I do not own FIT in my portfolio because I believe I can generate long-term growth with limited downside risk in a much more efficient way. This is why I built my Storm-Resistant Growth Portfolio. To learn more about it, click here and take advantage of the 14-day free trial.
Disclosure: I am/we are long AAPL.
I wrote this article myself, and it expresses my own opinions. I am not receiving compensation for it (other than from Seeking Alpha). I have no business relationship with any company whose stock is mentioned in this article.
Related Posts: